First Protestant School of New Braunfels offers daycare, preschool, and after-school programs for children aged 6 weeks through 5th grade.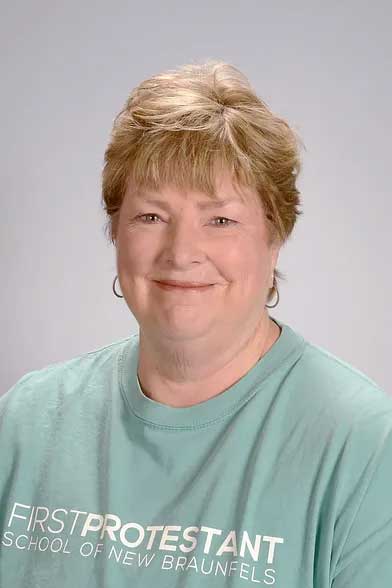 Mrs. Debbie
FPS Director
Hi, my name is Debbie Caraway. I have became the new Director for FPS in January 2021. I am thrilled about my new position here at FPS. I have worked in education all my professional life. I started with FPS in 1983, which at this time the school was in the Heritage House. Then we moved into the new school in 1995 and I become the Assistant Director. We are now in the new building on Castell Street. I received my Child Development Associates with FPS in 2017.
On a personal note I have been married since 1981 to my husband Mike. We have two sons, Steven (wife Sandy) and Clinton (wife Kayla). we have one grandson Cole. Our fifteen year old grandson Zaine passed away in July of 2020. I left FPS in 1996 to move to Colorado. My husband worked for United Airlines. So we did a lot of traveling. I started with KinderCare in 1996. We lived there two years which I loved! Moved back to Texas to be closer to our parents. We landed in Arlington for a year then moved to Mansfield and where he bought a house and lived there ten years. My husband decided to retire from the airlines so we moved back to New Braunfels. The previous director called and asked me if I wanted to come back to FPS. So here I am! Family time is important to me so we do family outings, camping (RV), going to the coast Rockport is our favorite, fishing and going to baseball games for our grandson. My husband and I travel during the summer. Our favorite place is Jamaica. Since the COVID we haven't been back.
I love my job and enjoy the people I work with! I am proud to represent FPS as the best school in New Braunfels. My most important job is to keep your child safe and make sure they have the appropriate learning tools. By doing this your child will move forward to a great learning experience. The next important factor is you the families of FPS. You have trusted my staff and I to watch over your child on a daily basis. To love them nourish them with knowledge. We also have a Chapel time on Wednesday. The children sing songs, learn Bible verses. Thank you for trusting my staff and I with your precious treasure.